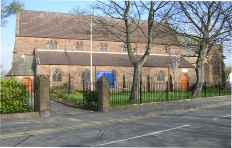 Friends of St. Michael's Church
A Friend is……
Someone you would miss if they were no longer there.
St. Michael's has served the surrounding community for several generations. It was built in 1886, by people who lived where you do now, as a Christian centre to be used by all the people of the area.
Our Activities include
A Tot's Group for parents and very young children,
An All-age community singing group,
Both youth and adult drama groups,
An Arts and Crafts group,
Drawing and Art group,
A Choir Club for children,
An Adult and young people choir for the Sunday Service,
Faith discussion groups,
Tea and Toast mornings,
Open Days for prayer or quiet time and refreshments.
We invite you to become a Friend of St. Michael's.
It does not matter if you normally go to church elsewhere or if you do not go to a church. We are open to everyone in the community. You would be welcome to attend any event or join any group activity held here. Or just come in to enjoy some quiet moments in the peaceful atmosphere of the building.
To be included as a Friend
Please send your e-mail address to Brian Lunt at runcornstmichaels@live.com
Or, visit our website www.runcornstmichaels.org.uk
We are also on Facebook
We will send you a monthly news-sheet called "Patchwork" which lists the activities with dates and times.
Feel free to come and meet us.
We are not asking you to commit yourself to anything, the invite is open and there is no need to book in advance.
If you have no e-mail address or prefer to receive a paper copy through your letter box please write your name and address and post/deliver it to the vicarage at 145 Greenway Road, Runcorn. WA7 4NR; marked Friend of
St. Michaels.
Friends of St Michael's Runcorn
Revd Vicki Schofield
145 Greenway Road
Runcorn
WA7 4NR
Tel: 01928 500993
Email: vicki_schofield@hotmail.com
29th August 2017.
To anyone with a collecting box that I may have missed:
Thank you so much for looking after one of our Collecting Boxes
Each year, in September, we check with you that all is well and that you are willing to continue collecting for St. Michael's. Your efforts are much appreciated as all the costs of keeping our church open has to be met by the congregation and friends. So "every little helps".
If you are happy to continue, will you please give me an email address or mobile phone number for a text. Then I will find it easier to keep in touch and you would also be able to pass back any information you think we may wish to know. My email address is brynknott22@ gmail.com. My Mobile number is 07774 197738 . (If you prefer not receive/send electronically, please let me have your address through any member of our church)
Also, if your box has not been emptied in the last year, will you please bring or send it to me through any member of our church. This is particularly important this year because the old style £1 coins cease to be legal tender in October, so please dump them with us! Have a collecting splurge of old £1 coins!
God Bless you for your support.
Bryn Knott
Friend's Secretary.